Getting Started
Why Sell on Xfurbish?
Niche platform for selling IT Enterprise products

Just 13% of order value as commission

Global presence

Easy and hassle free listing of products

No listing fee or registration fee or hidden charges

Minimal interference for resolution of buyer issue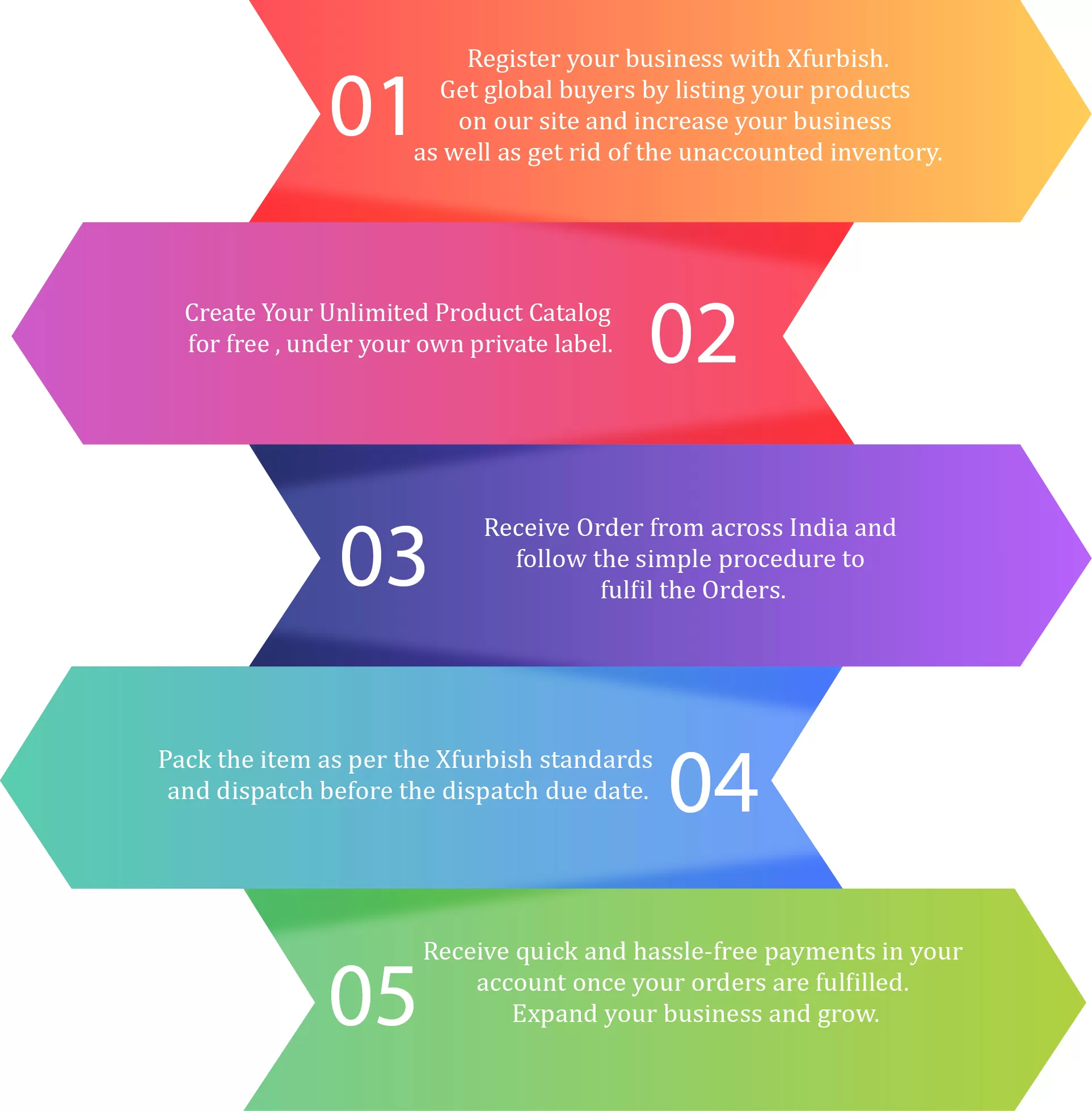 What to sell?
This platform is solely for buying and selling IT Enterprise Infrastructure products
IT Enterprise Infrastructure products - Information technology infrastructure is defined broadly as a set of information technology (IT) components that are the foundation of an IT service; typically physical components (computer and networking hardware and facilities), but also various software and network components.
Enterprise IT infrastructure typically refers to components required for the existence, operation and management of an enterprise IT environment. An IT infrastructure consists of a set of physical devices and software applications that are required to operate the entire enterprise.
All of the hardware, software, networks, facilities, etc., that are required to develop, test, deliver, monitor, control or support IT services.
A seller can list and make offers on the following
SERVERS: Tower Server, Rack Server and Blade Server

WORKSTATIONS

DISK STORAGE: Disk Storage Array and Storage Parts

TAPE STORAGE: Tape Drives, Tape Loader, Tape Libraries, Tape Media, Tape Spares, etc.

NETWORKING: Managed Switches, Unmanaged Switches, SAN Switches, Routers, Firewall, Access Point, etc.

PARTS & ACCESSORIES: Backplane and Midplane, Cache/Raid Batteries, Cables, Controller Unit, Controller Card, CPUs, Fans, Graphic Cards, Hard Disks, HBAs, Heat Sink, Motherboards, Management Module, Network Cards, Optical Drives, Power Adapters, Power Supply, Raid Cards, Riser Cards, RAM, SFP Modules/Transceiver, SSD, Server Chassis and VRM
The CONDITION of the listed products should be one of the following:
New

- The product is new and has never been used. It comes in its original packaging, which has not been opened. It comes with

Refurbished

- While your product isn't new, it has been professionally restored to working order so that it appears new, and it comes with a warranty. The product might or might not be in its original packaging. This is sometimes referred to as "remanufactured".

Used

- The product is a second-hand item. For example, the product has been used before, the original packaging has been opened, or the original packaging is missing.
Register

Go to xfurbish.com

Hover over the Register icon on the main menu

The register dialog box will pop up as shown below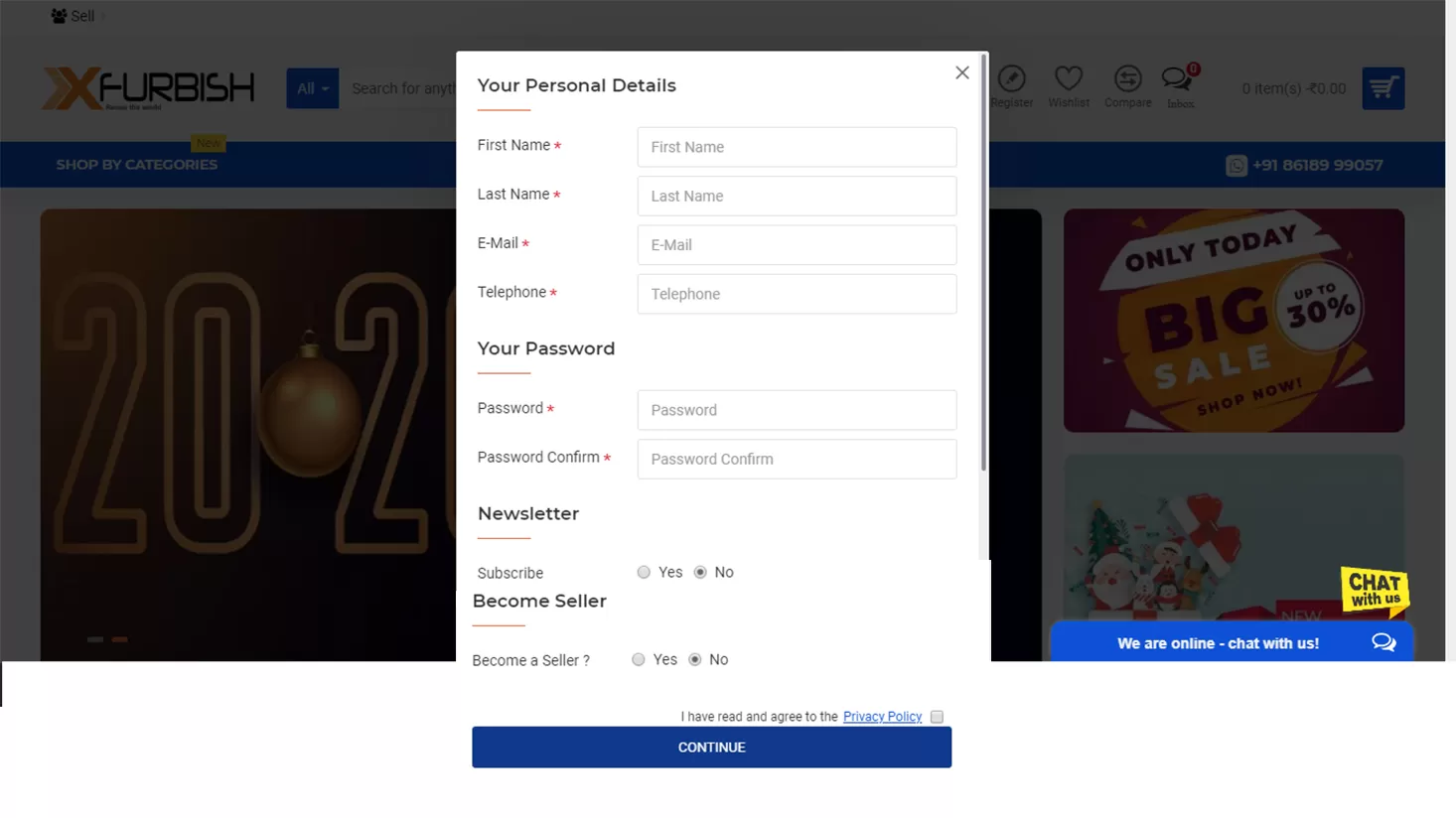 Fill in the required details as shown. Choose Yes to become a Seller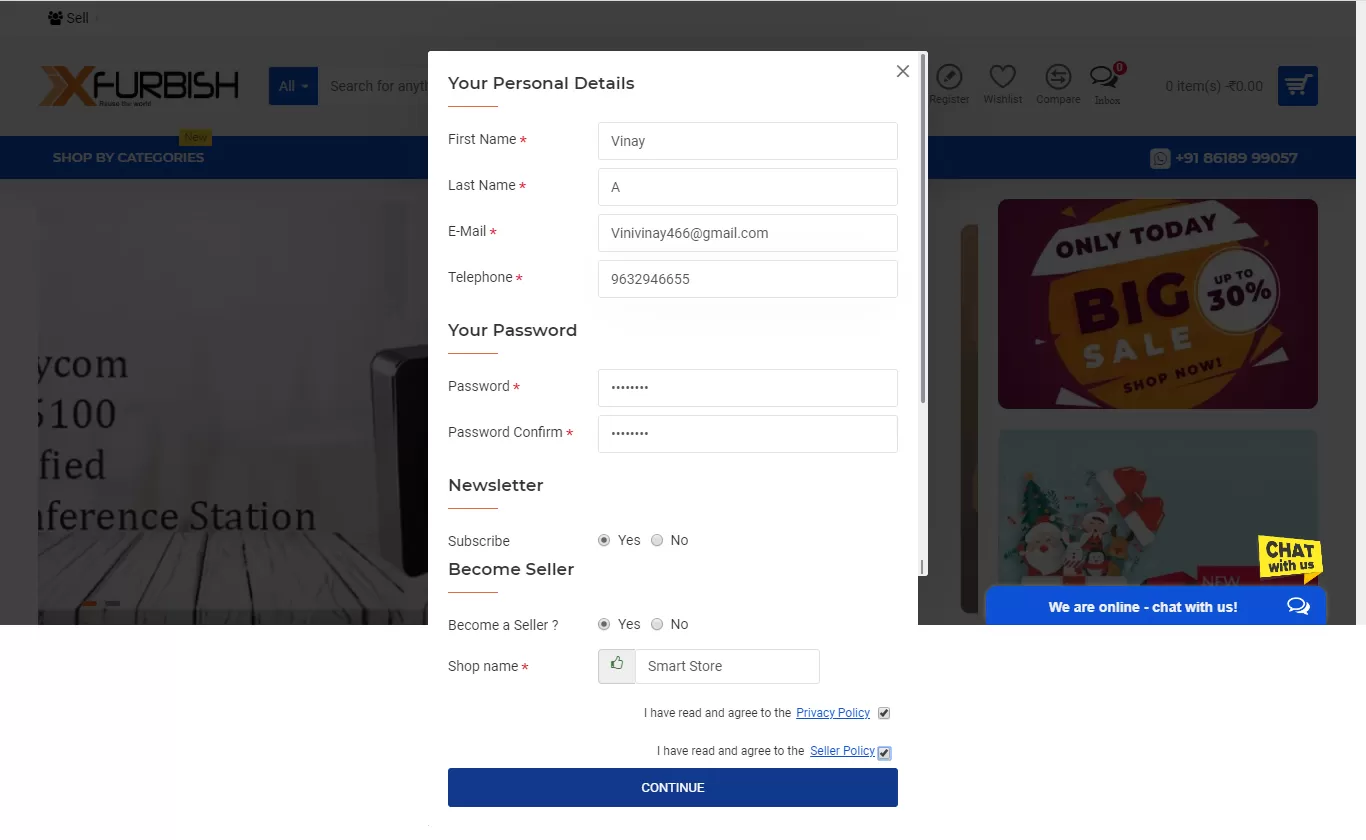 Shop name field will appear. Enter a desired unique store name to setup store.

Availability will be marked with green thumbs up sign

Read the policies and agree to terms by clicking on the check box

Press Continue
Congratulations! Your account created

Click on the link in the mail or press Continue on the website

You will be directed to seller panel
Welcome on board to Xfurbish! Now you can complete your profile and start listing your products
Create your Profile
Add General Details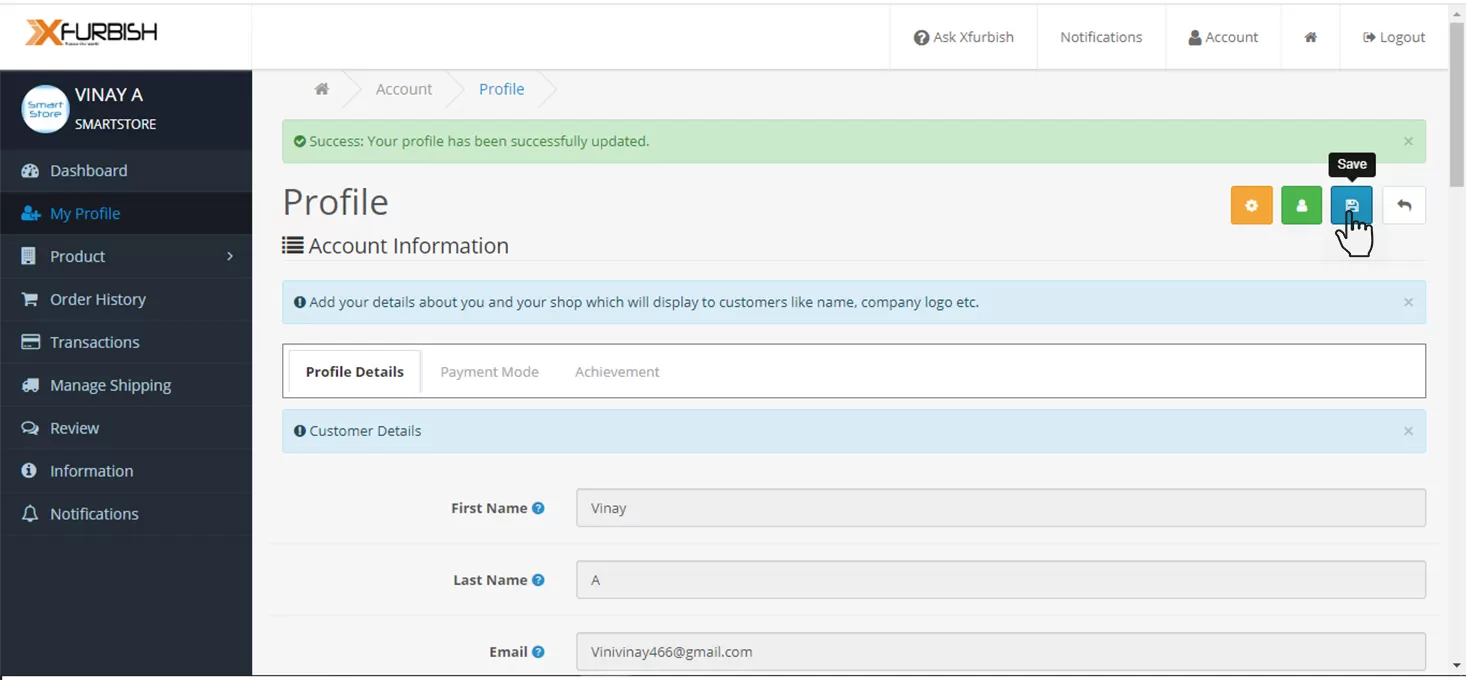 Click on My profile in the navigation menu or from Dashboard

Fill in the required details

Add a store keyword

Add an image to identify your store (It will be displayed everywhere on the site to identify your store)

Add gender and a short description of your profile

Additionally, you can add your Facebook profile link, Company locality or region, Country, theme company logo, company banner and company description
Please Note: Contact details or physical address or any personal details should not be added in the profile description or company description
Add payment details

Add your bank details. Bank details must include the following:
Account Holder Name
Account Number
Bank Name
Branch
IFSC Code
Add your GST Number
Add achievements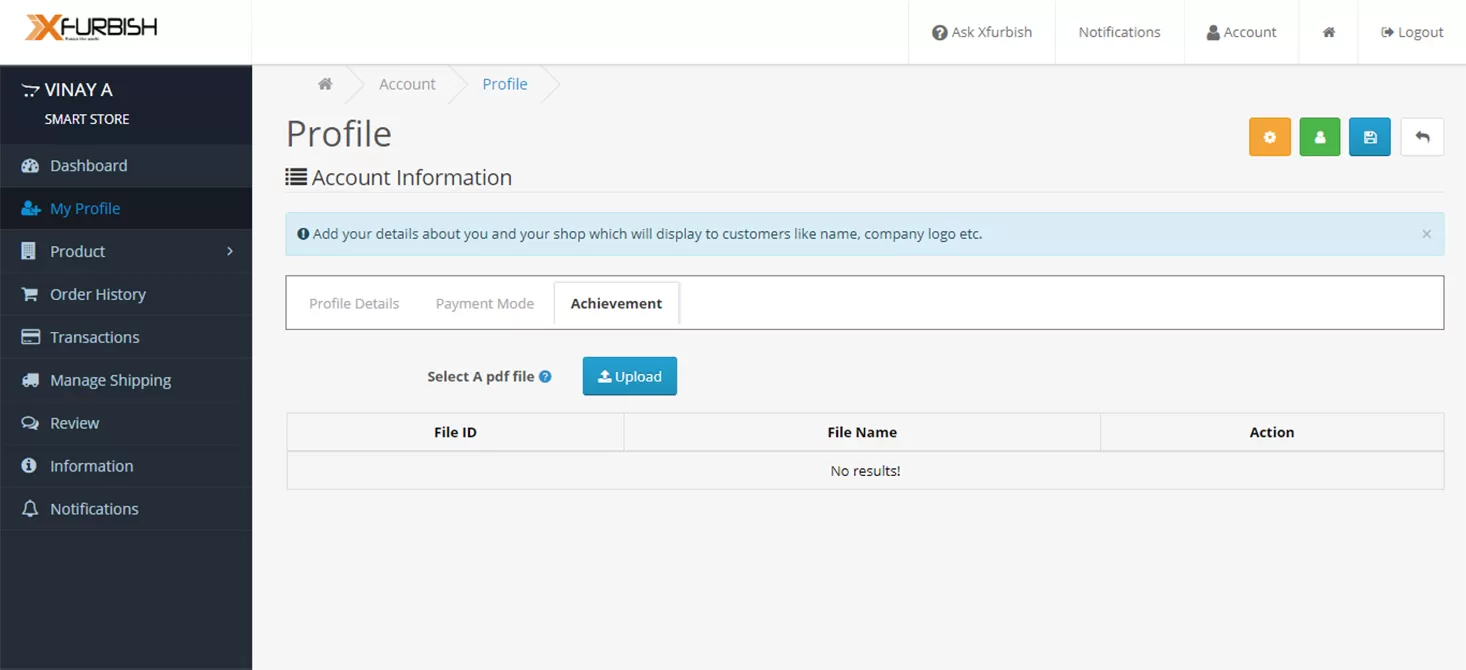 Upload your achievement certificates (if any)
Recheck the details to ensure correct information and click on Save
Dashboard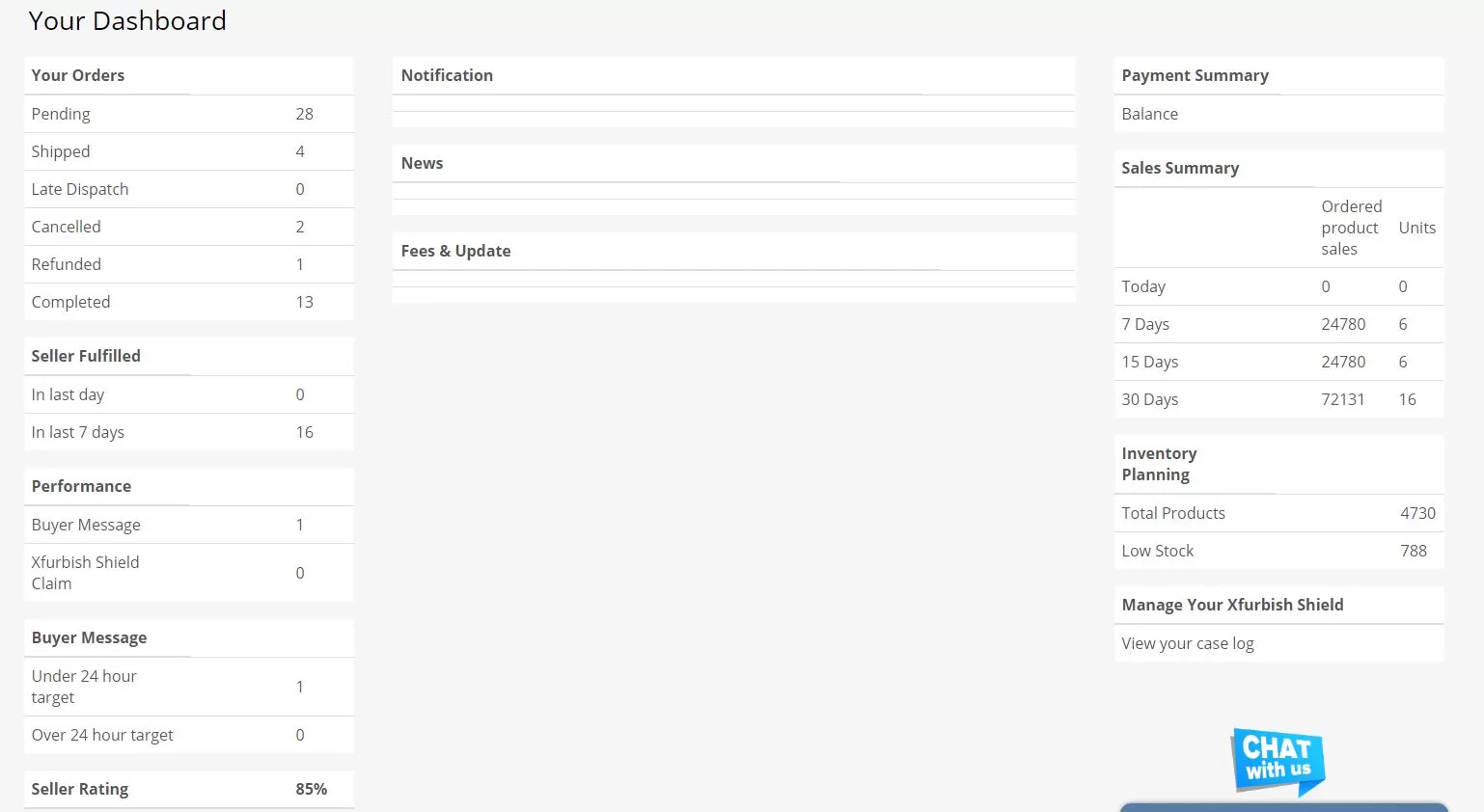 Your Orders
Pending:

Total count of orders that your online store has received and are being processed

Shipped:

Total orders that have been updated status as shipped and are in transit

Late Dispatched:

The number of orders which have been dispatched after the estimated date provided by you

Cancelled:

The orders that you didn't accept or the buyer negated

Refunded:

Orders that were not satisfactory or because of some unforeseen reasons the order was returned and amount was refunded
Seller Fulfilled: The total orders that have been shipped by your online store in the last 24 hrs and in last 7 days
Performance: Your Online store performance displayed on the dashboard is calculated on various criteria few are
Buyer message:

The total number of messages you received

Xfurbish Shield Claims:

The number of complaints that were raised against you and was granted to the buyer
Buyer Message
Under 24 hours' target:

Messages you received within 24hours

Over 24 hours' target:

Messages that you have not read within 24 hours
Seller Rating: It's the overall performance of your online store
Notifications, News, Fees and Updates: These fields are there to update the buyer about any changes implemented on the same.
Payment Summary
Balance: Total amount to be received in the next payment cycle
Sales Summary: The total completed orders within the timeline mentioned & the value is displayed here
Inventory Planning: It's all about the inventory which you have in your online store
Total products:

Total count of products you have listed in your store

Low Stock:

Count of products that are less than the desired units
Manage your Xfurbish shield
All the cases that are raised to claim Xfurbish shield is displayed here
Order History
Managing a new order

Go to your dashboard and scroll down to Latest Orders to manage orders

Click on view button to manage orders

Or click on Order History in the seller panel to manage the orders

Order history will open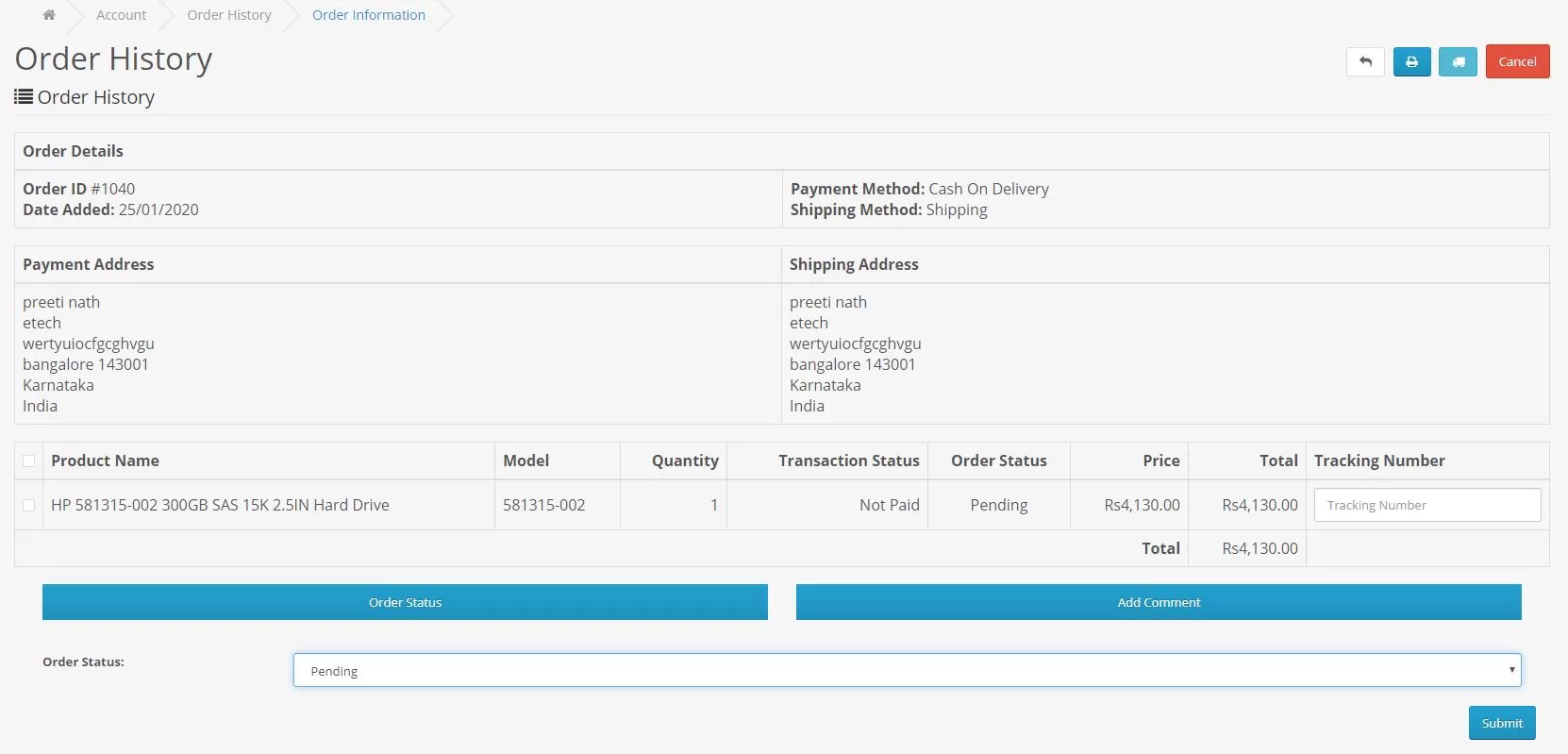 Manage the status of order by choosing the appropriate status
Pending: The status is meant to be pending when the order has been received and is being processed
Shipped: Once the product has been packed and shipped. The status should be changed to Shipped. Select the Courier Name and update the Tracking ID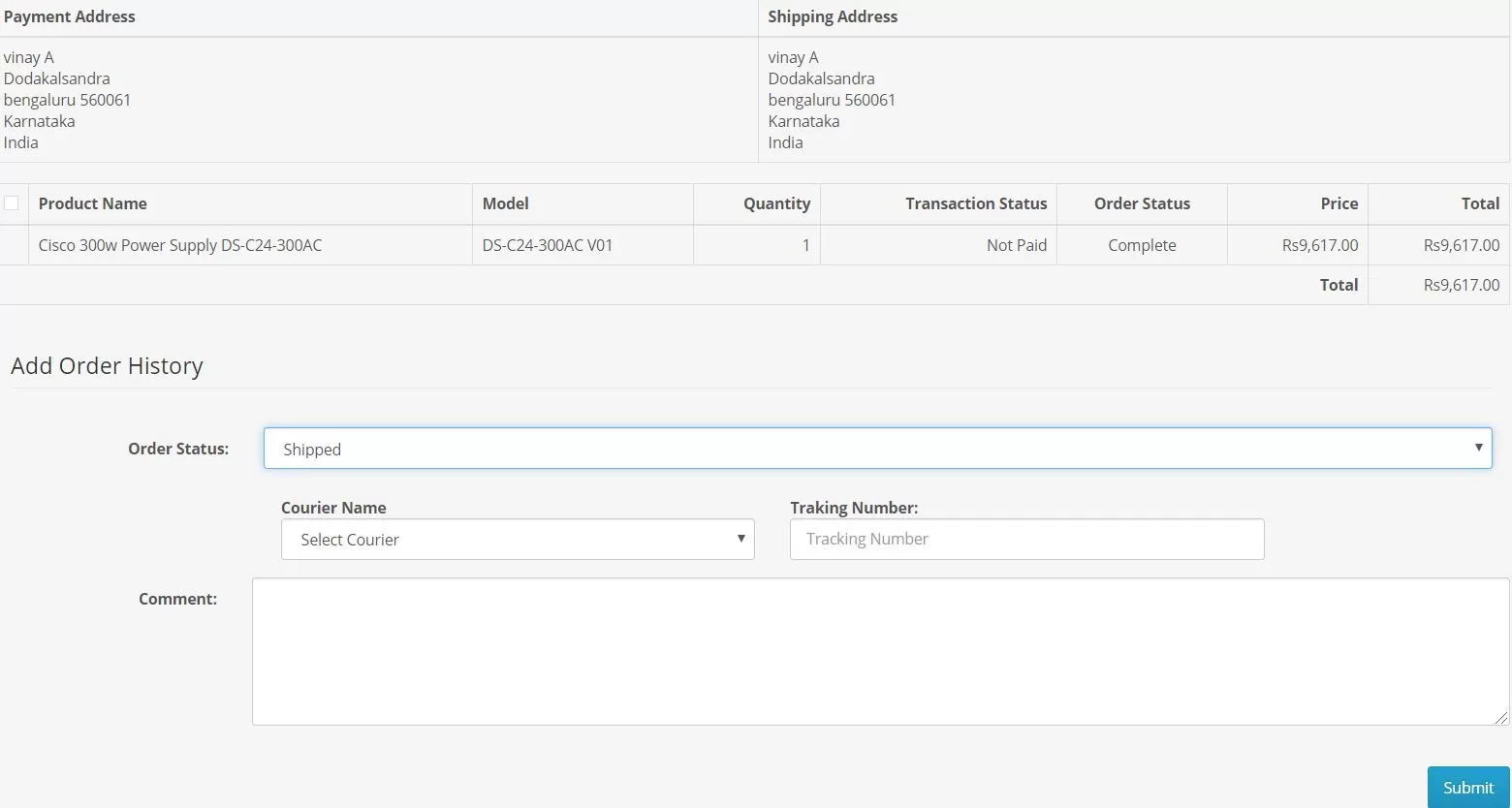 Completed: Once the order has been received by the customer. The seller has to change the status to Completed to initiate payments against the order
Transactions

All payments for the orders processed can be accessed in Transactions. Xfurbish has a simple and transparent fee structure for sellers with no hidden charges.
There is no separate registration fee, listing fee charged by Xfurbish. We only charge once you make a sale.
Please Note:
Only 13% of the total order value is charged as fees for all product categories.

Pay-outs would be issued in 15 days for the first cycle and on-wards would be 7 days

The pay-outs would be issued to the Bank Account updated on the Seller Profile
Product List
View the list of your listing with details in Product List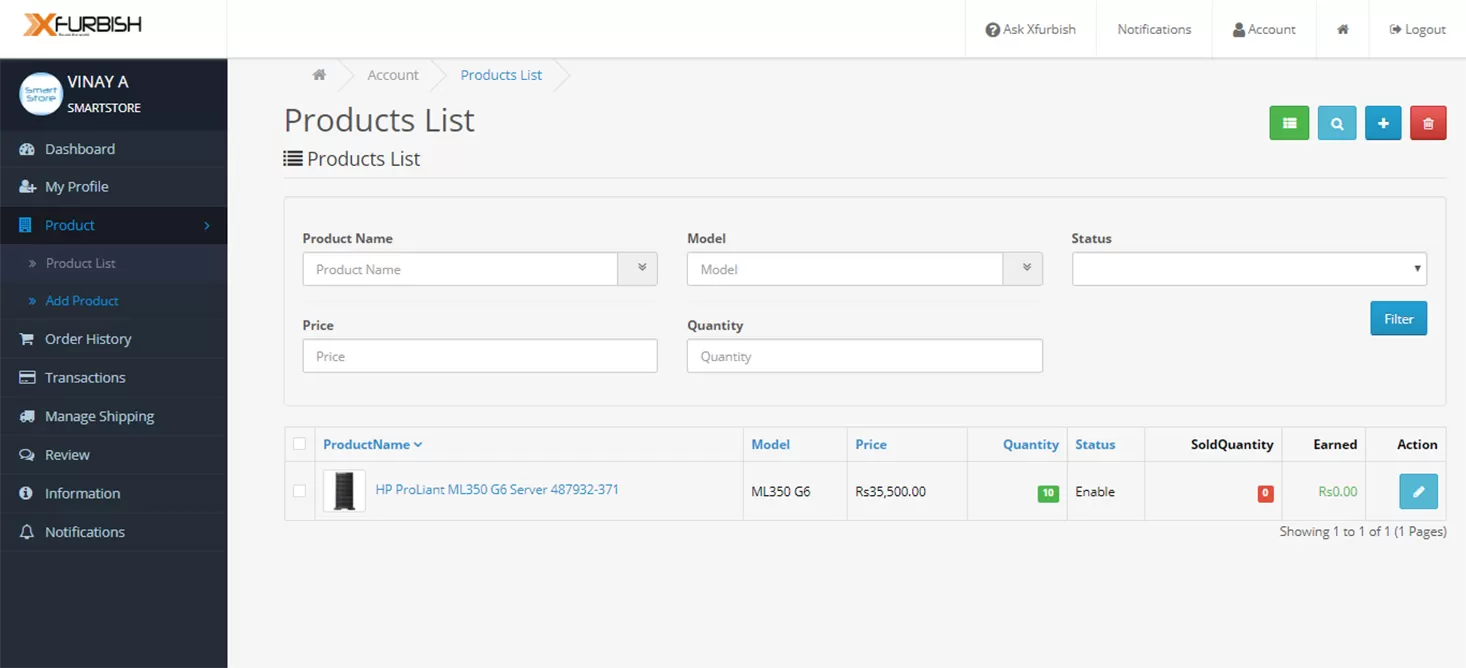 Create new product by clicking on add button

Edit the products by clicking on the edit button of the specific product
Add Product
Guidelines to create catalog
Click on Add Product tab on your seller panel
On the General Tab fill in the following information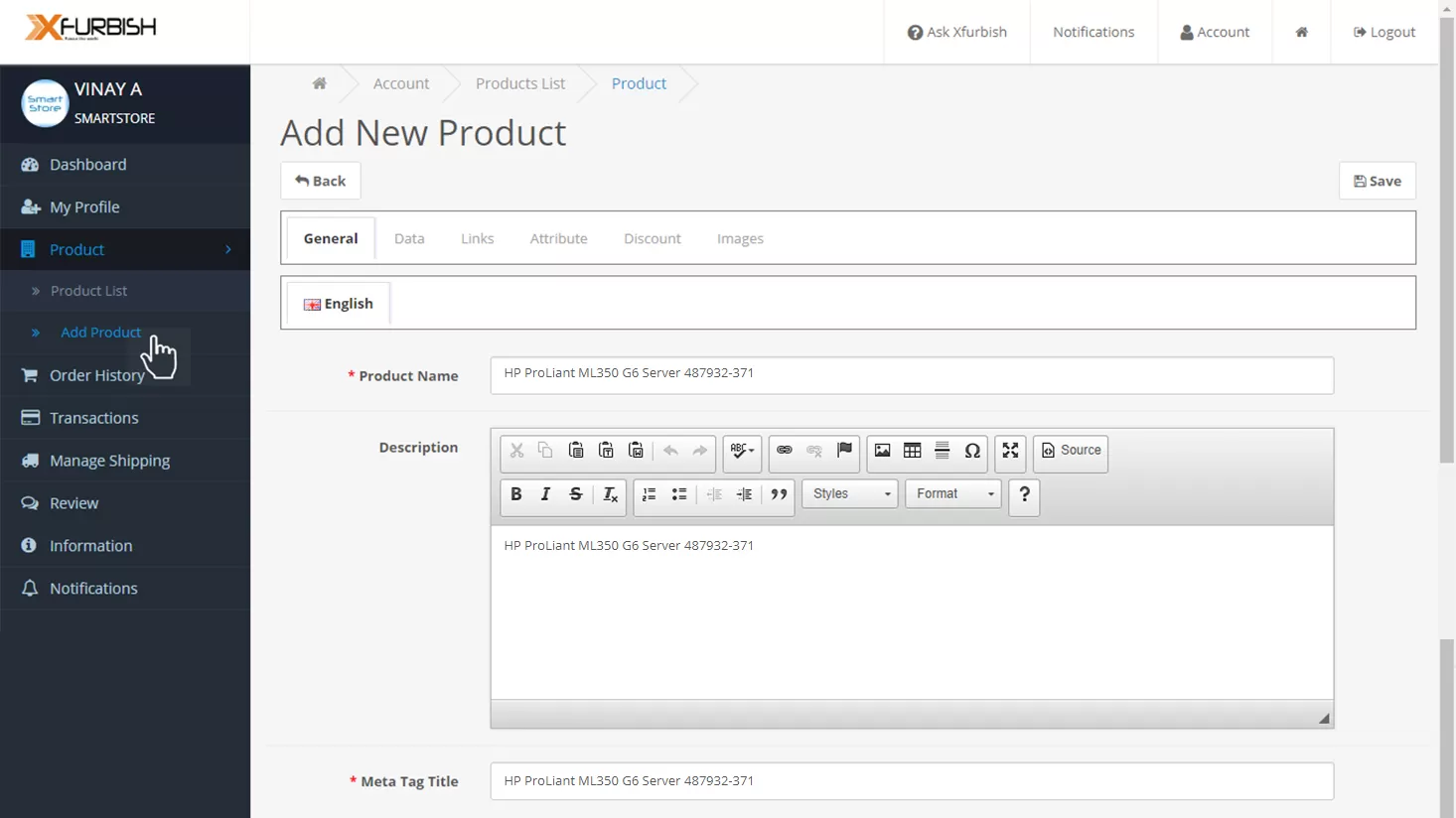 Product Name should be relevant and strictly written in following format.
Fujitsu Primergy RX300 S7 Barebone Server
Description should mention about features of the product

Meta Tag title should be mentioned as below as it would help us to market your product.
Example: Brand: Model:Keyfeature:partno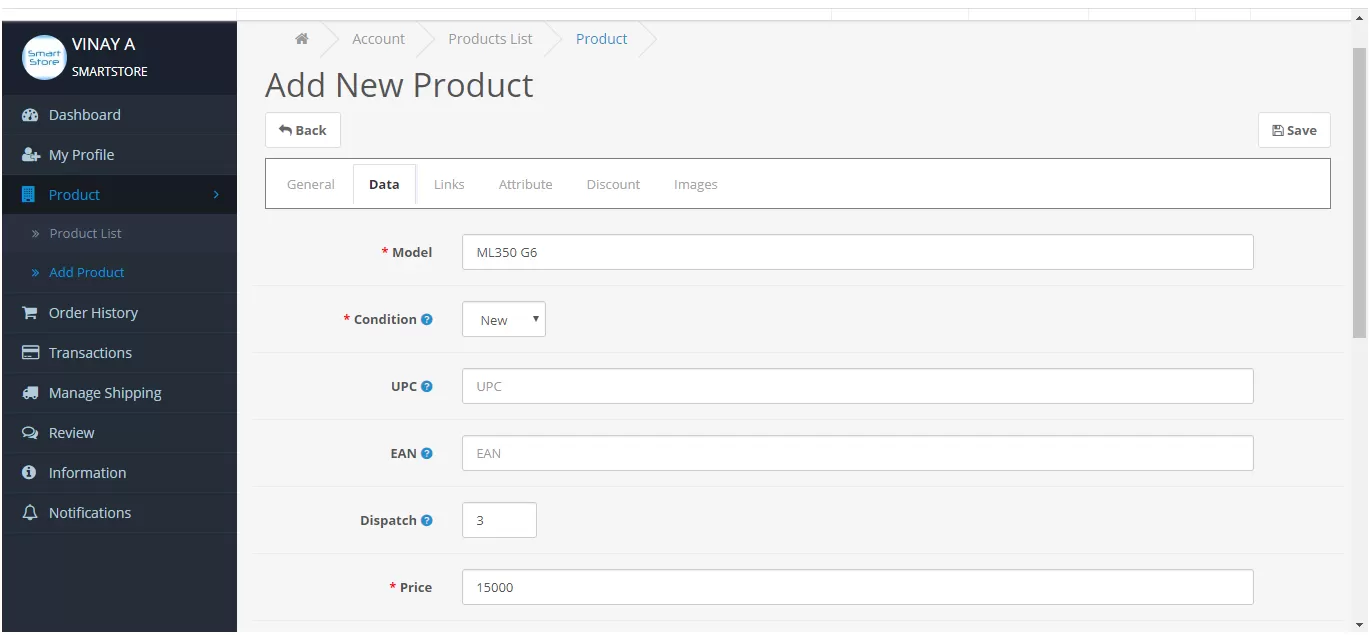 Data tab: fill in the following details related to the product
Model: Enter the model name, number or both

Condition: Select the condition of the product, mention if its New, Refurbished or Used as per the definitions mentioned above

UPC/EAN is mandatory for the New products

Dispatch: Enter the minimum days required to dispatch (handling days) the product,In case of same day, Enter 0. Dispatch is a collective term used for testing, packing and courier pick up or shipping though time required for shipping (transit period) doesn't count in dispatch

Price: Enter the genuine price of the product. The product price should be exclusive of state and country tax or any other tax applicable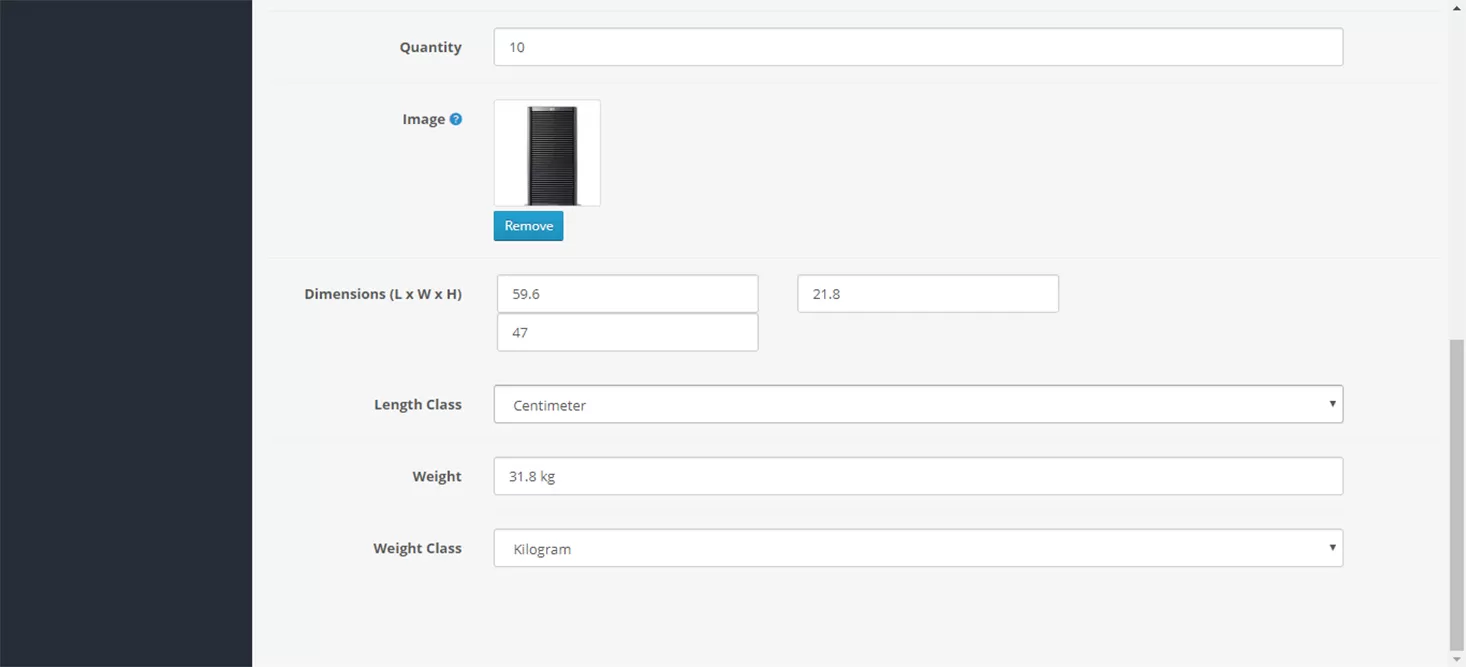 Quantity: Mention the units (quantity) of the product in your inventory

Image: Upload a High resolution 500*500 image of the product in .jpeg/ .png/ .jpg format. The image uploaded should be of the product. Images with watermarks will be blocked. No offensive, obscene or disturbing pictures should be uploaded.

Dimensions: Mention the length, breadth and height of the product inclusive of packing

Length class: Mention the International System of Units (SI units) used to measure the dimension example: centimetres, inches, millimetres, etc.

Weight: Mention the weight of the product

Weight class: Mention the International System of Units (SI units) used to measure the weight example kilograms, labs, etc.
On the Link tab fill in the following details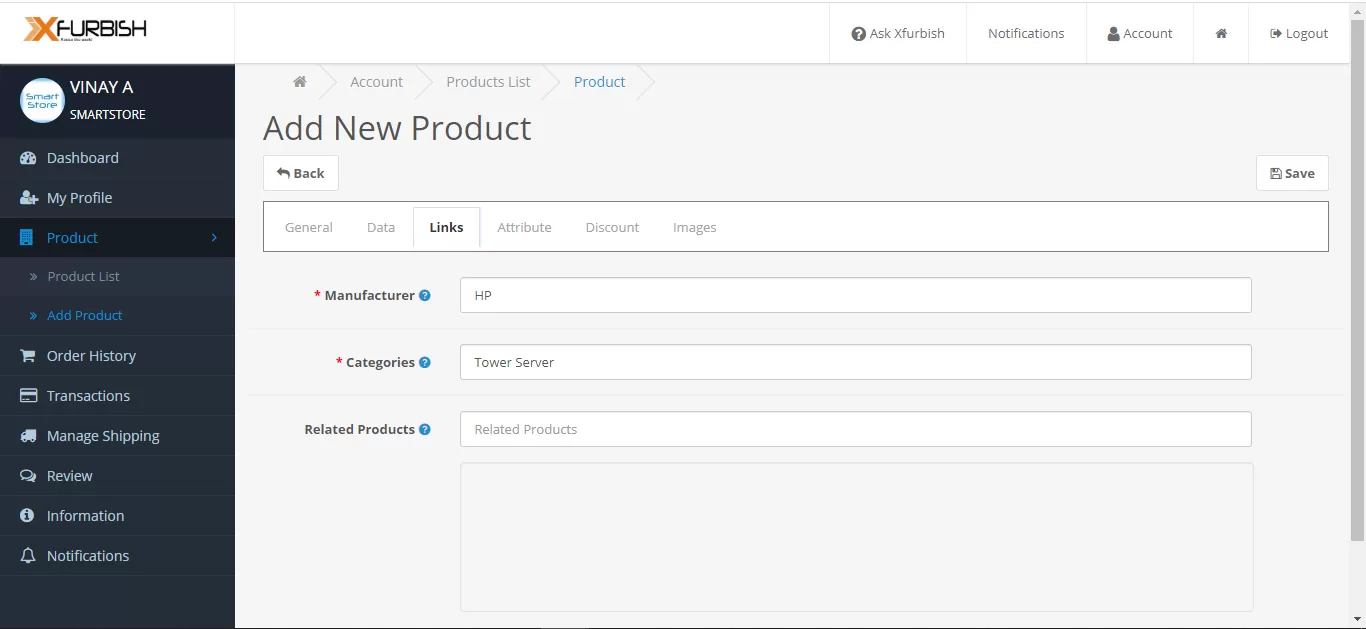 Manufacturer: Mention the product manufacturer name

Categories: Select the appropriate category of the product from the drop-down

Related Products: Enter the similar or compatible products available in your inventory
Specifying Attributes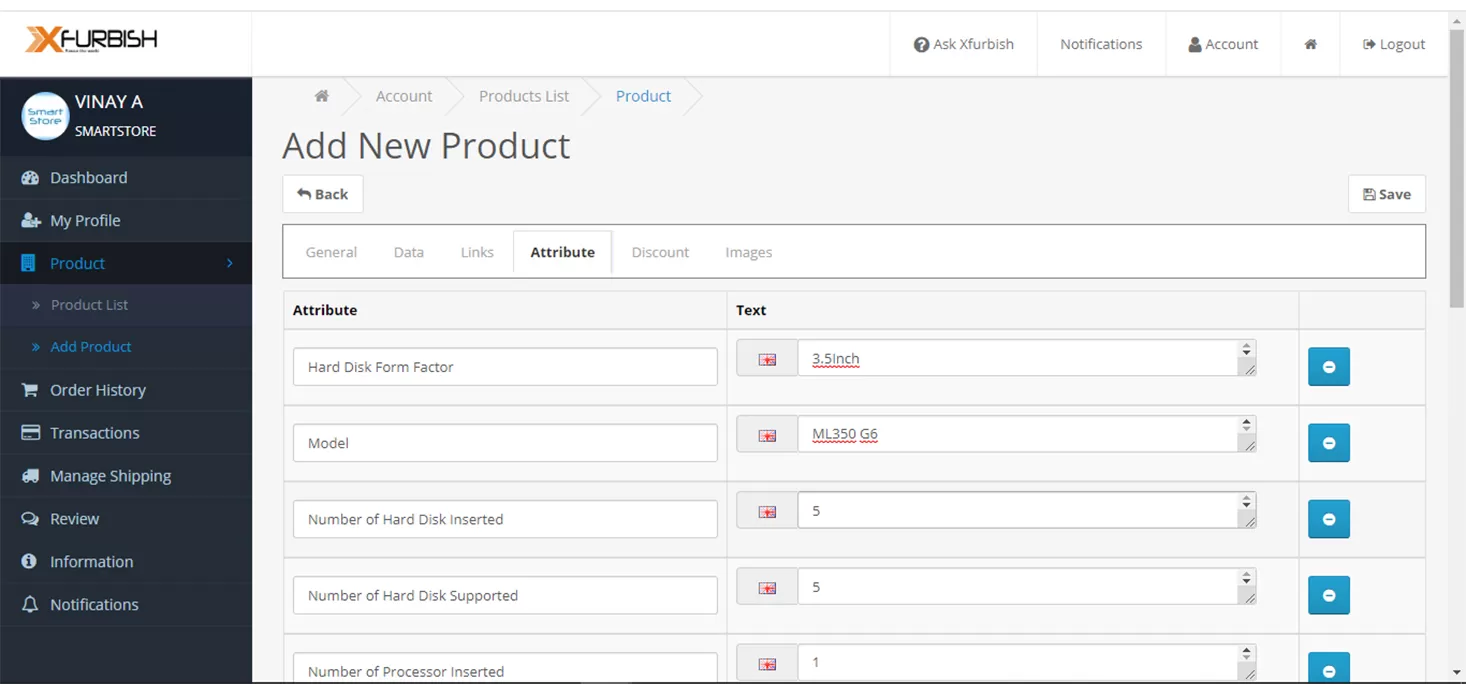 On selecting the category, the Attributes required will be populated. Fill the correct details in the field mentioned. Whichever is not applicable can be left empty.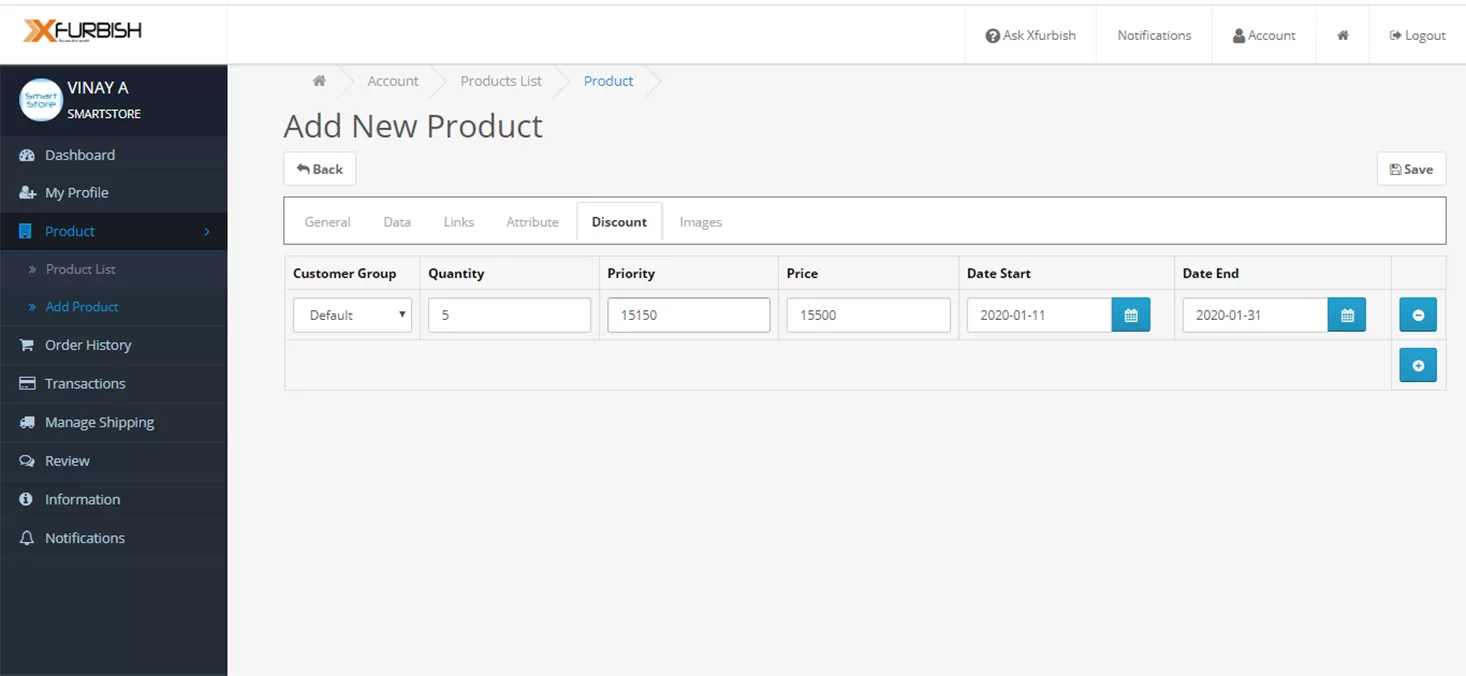 Offering Discount: If you are offering any discount only to this product specify on this column.
Click on Images Tab for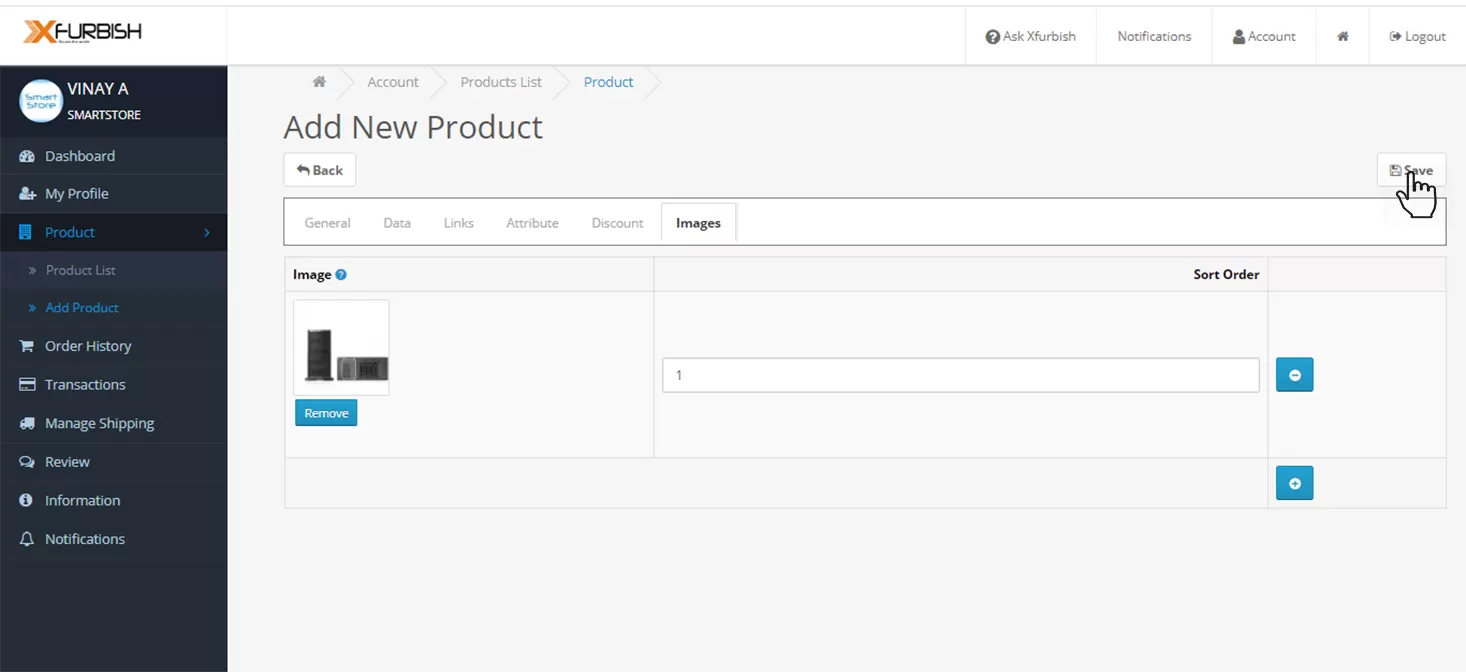 Click on the (+) icon to add additional images if any

All the images should be of High Resolution and 500*500 in .jpeg, .jpg or .png format

Click on the save icon on the right side of the screen to Save the product

You will be directed to the Product List. You can edit the listing by clicking on Edit (Pencil) button or create another product by clicking Add (Plus) button

Also, you will receive a mail confirming your listing
Notification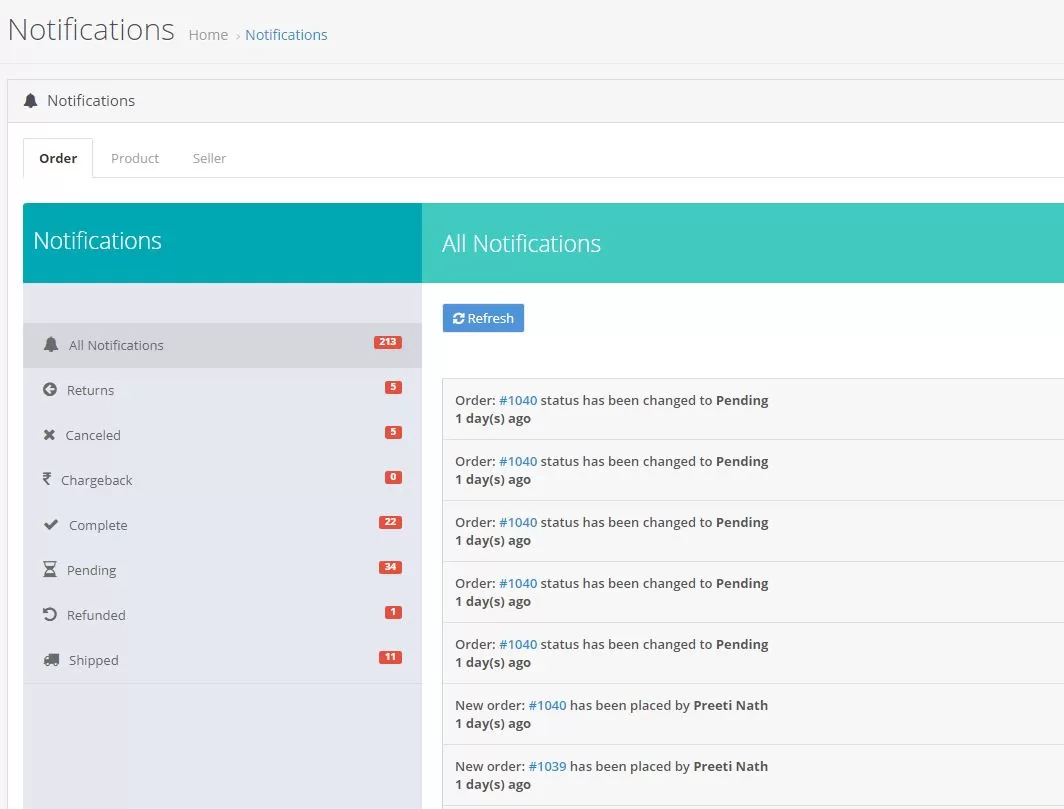 Once your login to your Account & view My Account
View your notifications by clicking on notification tab on your seller panel
Order Tab
Notifications related to the orders are displayed here
All Notifications: All notifications that you have received is displayed here.

Returns: All notifications related to returns

Cancelled: Cancelled order notifications will be shown here

Complete: Notifications related to order completion will be displayed in this tab

Pending: Any notification that you receive for the pending orders will be displayed in this tab

Refunded: Messages and notifications related to the refunds initiated or processed

Shipped: All orders where the status of the order is updated as shipped
Product Tab
Notifications related to the product listed by the online store is will be notified here.

We expect our sellers to follow the policies of Xfurbish while listing the product on the portal.
Seller Tab
Notifications displayed here is to update or notify seller regarding his Online store, it can be about regarding the policies the seller needs to follow, or notify about the same, & any new changes in policy will be notified to seller will be displayed here.
Review

Your reviews and product reviews would be displayed here